With all the scandalous reports circulating about online predators and sex trafficking lures through social media, it's refreshing to hear an unlikely meeting of online-acquainted strangers that blossomed into quite the contrary.
It all started with a little Scrabble-like game called Words With Friends.
22-year-old Spencer Sleyon and 81-year-old Rosalind Guttman were selected by the phone game at random to play one another last summer.
Little did they know, that one game would lead to hundreds, and ultimately an unbreakable bond of friendship that is ALL the talk of the Internet.
Initially, the two didn't utilize the app's chat function, but as they began to play together every day, they started slowly opening up to one another about their lives. Spencer, a 22-year-old rapper and producer from Harlem, even told his newfound friend about his dreams of moving from Maryland to New York to become a musician.
But after a while, Spencer became overwhelmed with the demands of life, and decided he needed to delete the game app to focus on other priorities. However, he made sure to say goodbye to his Floridian friend Rosalind first.
Before doing so, he asked if she had any words of wisdom for him.
Her response was simply, "Whatever you want out of life, just go grab it."
So that's EXACTLY what he did.
A couple months later, in October, Spencer was randomly going around the room with his friends, discussing their best friendships.
"My best friend is an 81-year-old white woman who lives in a retirement community in Florida," said Spencer when his turn came.
He was somewhat joking, as the two weren't technically best friends, but the unexpected comment launched a sequence of events that led to him meeting Rosalind in Palm Beach in person!
Spencer had since moved to New York and redownloaded the app to connect with Rosalind, but he had no plans to meet her until one of his friend's moms, Amy Butler, overheard him talking about their friendship.
Amy, a senior minister at Riverside Church in Manhattan, took matters into her own hands and decided she wanted to orchestrate a meeting for these two unlikely pals. Their story was just TOO cool to not get a storybook ending.
With Spencer's help, Amy got in contact with Rosalind and flew down to Florida with him to meet her.
"There was no hint of awkwardness. It was like they were magnetically drawn to each other," said Amy of their reunion, adding that "it was more beautiful than I could have even imagined."
And it seemed Twitter agreed that this magnetic meeting of strangers-turned-besties was EXACTLY what they needed in their lives right now, especially with all the racial tension in the media.
Garnering over 1,000,000 likes and nearly 250,000 retweets, their story quickly became a viral sensation.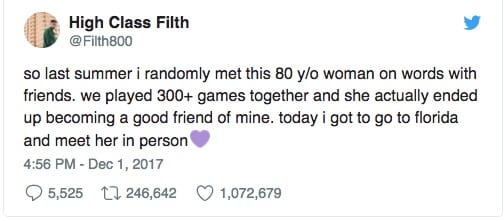 "A lot of people I saw online said, 'I needed a story like this, especially with the race relations in this country right now,'" said Spencer.
According to Amy, Rosalind hasn't yet spoken to reporters and apparently doesn't know what all the hype is about because "people should be behaving this way with each other all the time."
However, she did send an endearing email to Amy after their meeting, which the senior pastor took the opportunity to incorporate into her sermon on Sunday:
Dearest Amy,

I'm at a loss for words to describe today. Without question, it was one of the most memorable days of my life. I'm still basking in the glow of warmth and friendship. You and Spencer extended yourselves to me and embraced me in a most unbelievable fashion. My only words in this moment are a humongous thank you. I love you both to the moon and back.

Ms. Roz
All the praise to these two role models for showing America what it means to slay gender, racial and age biases in the name of loving one another for their beauty within.
Wishing these two a long and happy friendship to the moon and back. 💛
Read more: https://faithit.com/unlikely-friends-22-year-old-81-year-old-viral-twitter/