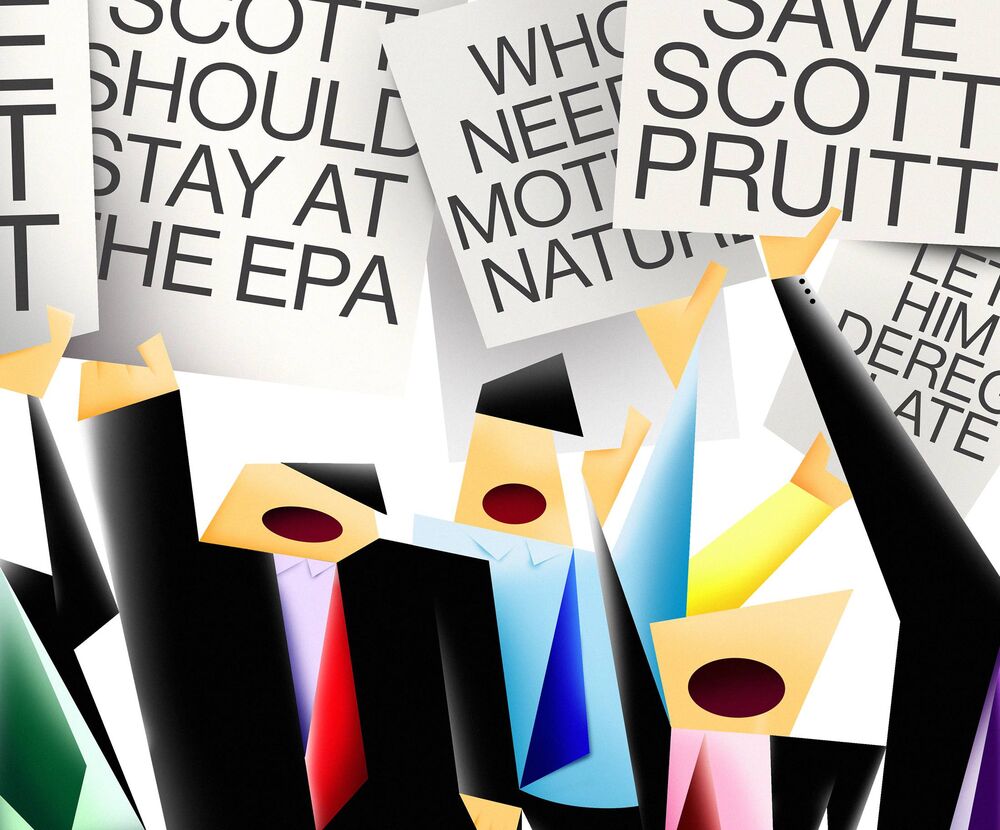 During the first week of April, as scandals piled on top of Environmental Protection Agency Administrator Scott Pruitt, it looked like his job was in jeopardy. A handful of lawmakers, including two Republicans, called for him to resign after reports surfaced that he'd rented a Capitol Hill condo on unusually agreeable terms from the wife of a prominent energy lobbyist with business before the EPA. Top administration officials distanced themselves from Pruitt as the White House launched a review of his actions, and Chief of Staff John Kelly told President Trump it was time for the EPA chief to go.
Pruitt was already controversial. The former Oklahoma attorney general, who made a name for himself suing the agency he now runs, had drawn fire for his enlarged security detail, his habit of flying first class, and the $43,000 installation of a soundproof booth in his office, not to mention his disregard for climate science. But this time it felt like a line had been crossed, especially as damaging revelations kept coming, seemingly every hour. Reports surfaced of staff being reassigned or demoted for challenging him and of Pruitt using an obscure law to give two close aides hefty raises over White House objections. When the EPA's general counsel walked back his initial assessment that the rental deal didn't violate federal ethics laws, Pruitt looked like a goner.
What happened next is a testament to the EPA administrator's ties to the business community and how crucial he is to the conservative antiregulation agenda. By the evening of April 5, an aggressive advocacy campaign to save his job had kicked into gear as activists, business executives, and Republican politicians came to his defense.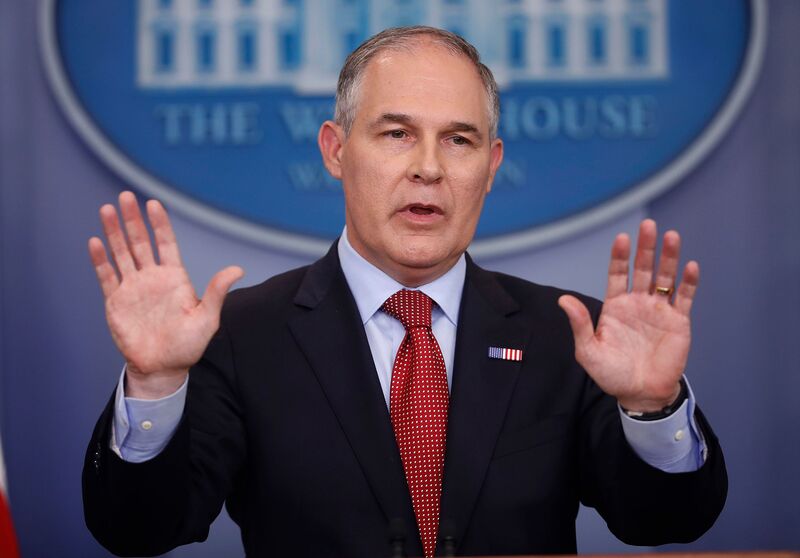 The campaign went public when FreedomWorks, a powerful right-wing advocacy group, blasted out a call for help to its online community of 5.7 million conservatives, including on Facebook, Twitter, and by email, reminding them of Pruitt's record on rolling back regulations and asking them to call the White House and Congress to support him. The group also promoted a #StandWithScottPruitt hashtag on social media, highlighting it in multiple tweets, including one asserting that he was the victim of a "smear campaign" by the "radical left."
Among those responding was Dallas investor Doug Deason, whose family has given millions to right-wing candidates. He texted and emailed contacts at the White House to make clear he wanted Pruitt to stay. As reports surfaced that Trump's chief of staff had suggested the EPA chief needed to go, Deason got angry. "If that's true, I think Kelly needs to go because he has no spine," he says. "We need to get on the offense."
Back in Washington, conservative leaders including Myron Ebell of the Competitive Enterprise Institute and Tom Pyle of the American Energy Alliance scrambled to find ways to show support, resulting in an open letter from dozens of Republicans hailing Pruitt's work. Soon, what started as an email effort morphed into a full-throated #SaveScott campaign, with prominent Republicans and leaders of the Tea Party movement such as Steve Forbes and Kentucky Senator Rand Paul penning op-eds, posting on Twitter, and picking up the phone to lobby the president against firing the man they see as a champion of deregulation and for whose confirmation they fought. "He's a conservative hero," Deason says. "We burned a lot of chits to get him into that position." They couldn't afford to lose him now.
By the end of the week, Trump had heard from billionaire Oklahoma oilman Harold Hamm and confidant Chris Ruddy, chief executive officer of Newsmax Media Inc., voicing their support. By Saturday night it looked like Pruitt was safe when Trump tweeted that, despite the issues surrounding the security detail and rental agreement, "Scott is doing a great job!"
One factor working in Pruitt's favor is that Trump is unlikely to get anyone like him through the confirmation process again. Senate Republicans warned it would be tough—if not impossible—to confirm a replacement. Given three bruising confirmation battles expected for the president's picks to lead the CIA, the Department of Veterans Affairs, and the State Department, there isn't much appetite for a fourth. Trump "will be forced to nominate someone who is more moderate on the environment, or he will get tattooed in the Senate," says Dan Eberhart, CEO of Canary LLC, a Colorado-based drilling-services company, and a major GOP donor.
Pruitt has emerged as the deregulation star of Trump's cabinet, methodically dismantling rules meant to protect the environment. He's proposed scrapping President Obama's signature plan to cut carbon emissions, is rewriting a water pollution rule, and has quashed an effort to put new limits on methane leaks from oil wells. "Pruitt is the most conservative member of the cabinet, both in temperament and action," says Republican strategist Mike McKenna. "He's also the guy who has done the most for the president's agenda."
His support among Senate Republicans isn't absolute. In a series of interviews, some voiced concerns over his spending habits and the potential blowback. "He needs to stop leading with his chin," says Republican Senator John Kennedy of Louisiana. "This is taxpayer money he is spending, and he needs to treat it like the precious commodity it is. I can support his policies without supporting his behavior."
Environmental groups are stepping up opposition research and a "boot Pruitt" campaign on Twitter. The Sierra Club broadcast a critical ad on Fox News Channel's , which the president watches faithfully. Activists are scouring Pruitt's real estate transactions, records from his tenure as Oklahoma's attorney general, and documentation of his travel for any tantalizing detail. "The environmental movement in total is all in for the removal of Scott Pruitt," says Lukas Ross, a campaigner with the group Friends of the Earth. "You are going to see escalating pressure in the coming days, especially on the Senate side, to get members to commit publicly that Pruitt should be fired."
The government's top ethics official, David Apol, is urging the EPA to investigate Pruitt. At least four probes are under way, and the agency's inspector general's office has been asked to open other investigations into his condo agreement. Another conflict may relate to the man behind some of Pruitt's most controversial security upgrades, including biometric locks in his office and his round-the-clock bodyguards. Pasquale "Nino" Perrotta is a former Secret Service agent who got the job protecting the administrator last year after the previous security head questioned some decisions and was reassigned, according to a person familiar with the change.
At issue is an EPA security move that may have enriched one of Perrotta's business partners, Edwin Steinmetz, the vice president for technical surveillance countermeasures at Perrotta's Maryland-based company, Sequoia Security Group Inc. Perrotta is the company's principal, and the EPA's $3,000 contract to search for bugs in Pruitt's office was awarded to Edwin Steinmetz Associates LLC. Perrotta didn't respond to messages seeking comment.
Perrotta played a key role in the agency's decision to guard Pruitt 24 hours a day, a major shift from the typical approach giving administrators only "door-to-door" protection. Now at least 19 agents guard the EPA chief day and night, and the number may be higher depending on travel and other needs.
"Perrotta is at the center of these decisions to spend money in ridiculous ways," says Austin Evers, the executive director of American Oversight, a government watchdog group probing the EPA's security decisions. "The administrator has gone out of his way to pick someone to lead his detail who will say 'yes' to everything and give him the entourage he apparently dreamed of."
BOTTOM LINE –
After the latest round of scandals hit EPA chief Pruitt, a collection of conservative activists, politicians, and donors rallied to his defense to save his job.
Read more: http://www.bloomberg.com/news/articles/2018-04-12/epa-chief-scott-pruitt-is-safe-for-now