PowerShares QQQ climbs 1.3 percent after exchanges close

This earnings season hasn't been kind to tech stocks
What started as a depressing earnings season for tech companies is finally showing some signs of hope.
The PowerShares QQQ Trust, the biggest exchange-traded fund tracking the Nasdaq 100 Index, climbed 1.3 percent as of 6:25 p.m. in New York Wednesday, as companies from Facebook to Advanced Micro Devices announced results that beat analyst estimates. Nasdaq 100 mini futures advanced 0.6 percent.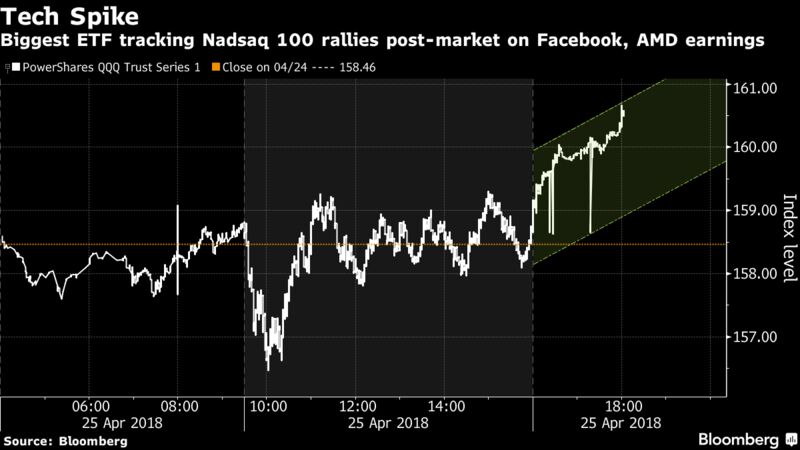 While post-earnings spikes in stocks such as Alphabet and Twitter have proved fleeting this week, any sustained gains would come a long way to soothe investor anxiety over an industry whose leadership has been called into question.
Facebook shares jumped 7 percent after the social-media company's user engagement and ad sales showed no signs of damage from a data privacy controversy that erupted toward the end of the first quarter.
Semiconductor stocks, the subject of much hand-wringing lately, were buoyed by a better-than-expected revenue forecast from AMD, which rallied 9 percent, and positive comments from Qualcomm on demand from China. Chipmakers Nvidia and Micron Technology also rose.
But it wasn't all good news. EBay fell 4 percent after revenue expectations fell short of analyst projections.
Just one day ago, concern over Alphabet's spending plans sparked a selloff in tech giants, wiping out $85 billion in market value from the FANG block that also includes Facebook, Amazon and Netflix. On average, tech stocks have fallen 1.2 percent on the first day post earnings, even as profits beat estimates, data compiled by Bloomberg show.
In regular trading, the Nasdaq 100 rose for the first time in five days, adding less than 0.1 percent. The Philadelphia Semiconductor Index slipped for the sixth day in a row, the longest losing streak since January 2016. The 30-member index closed below its 200-day moving average for the second time in as many days.
Read more: https://www.bloomberg.com/news/articles/2018-04-25/nasdaq-100-rallies-after-hours-on-facebook-chipmaker-earnings