About $180 billion erased from combined market value

Slew of bad news hit stocks whose gain looked like bubble
The market's darlings just suffered their worst day in at least three years.
The NYSE FANG+ index, tracking the FANG block and its megacap brethren, tumbled 5.6 percent in the biggest rout in data going back to September 2014.
Twitter Inc. led the plunge with a 12 percent decline as all 10 index members retreated. Facebook Inc., Amazon.com Inc., Netflix Inc. and Google's parent Alphabet Inc. slumped at least 3.8 percent.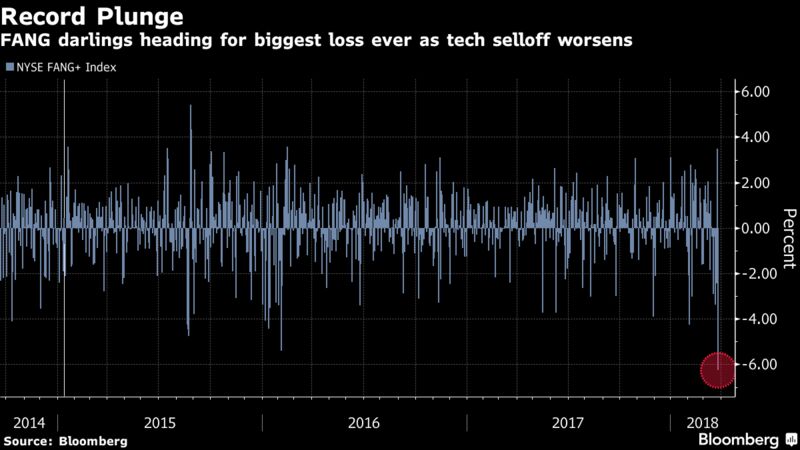 Many of the big names in the industry had their own reasons for bad days: Twitter being targeted by short sellers, Facebook's ongoing privacy scandal and Nvidia Corp.'s suspension of driving vehicle testing, for starters. Not to mention growing doubts over Tesla Inc.'s new models and a second probe into a car crash.
But for skeptics such as Jeff Gundlach and Howard Marks, the plunge is long overdue. The FANG index's advance from early 2016 through this month's peak reached an annualized rate of 67 percent, outpacing even the Nasdaq Composite Index's return in the final two years of the dot-com bubble.
"It's been such a good performer that at this point it's kind of on the defensive," Brent Schutte, chief investment strategist at Northwestern Mutual Wealth Management Co., said by phone. "There's so many people with so many gains in technology."
There is also a valuation case to be made for the intensified selling. While the FANG companies' dominance in areas from social media to e-commerce will foster faster growth, their multiples are eye-watering.
Valuation Case
At 65 times earnings in mid March, the group was valued almost three times as richly as the S&P 500 Index. That's comparable with tech stocks in March 2000.
Since peaking on March 12, the FANG index has fallen in all but three days, sliding 12 percent along the way. Tuesday's drop wiped off about $180 billion in market value.
"The fact that the tech selloff accelerated in afternoon on heavy volume probably means a selloff will continue," said Stephen Carl, head trader at Williams Capital Group. "One thing is feeding into another here: uncertainty over the tariffs, Zuckerberg's testimony, weakness in Tesla. People don't know which way things are going to go and are taking profits."
Read more: https://www.bloomberg.com/news/articles/2018-03-27/fang-darlings-bleed-as-index-posts-biggest-loss-on-record